VET-A020V Farm portable Wrist Full Digital Vet ultrasound scanner/animal
ultrasound machine .
Product Description
Features:
Wrist design: truely innovative.
Smart and light : 5.7" high resolution color LCD , 1.1kg weight.
No fan: Avoid cross-infection for virus.
USB port: directly store image to U disk.
Gridding calculate: quick measure by eye.
Accessory: a lot of optional parts for customer different use habit.
2 pcs Internal li-battery: work for 5 hours.
Technical Specification
*Adopt ARM7 Embedded Control Systems and proprietary miniaturization technology of ultrasonic hardware system.
*5.7" High resolution color LCD, high brightness, high contrast, wide visual, suitable for outdoor use Language: Chinese/English switchable.
*Single probe socket, automatically identify the probe, support several optional probes.
* Body mark: 1. general use 2.bovine 3.canine 4.equine 5.feline 6. Cardiology, 7.swine---7 kinds, total 27 pcs of body marks with probe position.
* Display mode:B,2B,4B ,B/M,M, total 5 kinds.
* 8 kinds of Magnification, maximum display depth is 240mm.
* Gain range:0~127dB
* Dynamic range:27~90dB
* Gray:256
*Cine loop:256 frames.
* Puncture guiding function( 2 guiding lines, angel and position adjustable)
*Probe model:electronic convex and linear
*Elements of probe:80
*USB port support one-key storage image to USB and color laser printer directly print various image and reports.
*Dual-mode TV output:PAL/NTSC, connecting to thermal printer and ultrasonic working station.
*Net weight:1.1kg.
*Main unit size: 155x180x80mm(length x width x height).
*Intelligent TGC control: near-field and far-field adjustmen
*Adjustable and intelligent focus.
*Frame frequency:30 frames/second.
Pseudo-color: 8 kinds (incl. B/W).
*Permanent image storage: 100 frames.
Measurement and analysis:
General measurement:distance,Perimeter, area (trace method, ellipse method), volume, etc.
Other measurement: Automatically calculate the Back fat and Lean percentage of swine .
OBreport function
Automatically save the last parameters, customer can directly use it on next time.
lmage storage:
100 frames permanent image storage, without loss when power off.
USB port support one-key storage image to U disk
Power supply:
Battery: high-capacity lithium Battery( 2400MAh) . Two pcs battery can work than 5 hours.
Power:AC110/230 -15%~+10%(self-adaption supply voltage) 60/50Hz±1Hz.
Standard configuration:
Main unit: 1 pc
6.5MHz linear rectal probe : 1 pc
Power adapter: 1 pc
Internal battery : 2 pcs
The leather Case: 1 unit
Base Charger, belt, bracket, shutter release: 1 pc for each.
Optional configuration:
Probe:
4.0Mhz multi-frequency convex rectal Probe
7.5MHz multi-frequency linear probe
6.5MHz multi-frequency micro-convexprobe
3.5MHz multi-frequency convex probe
6.5MHz multi-frequencytrans-vaginal probe
goggles
USB flash disk
Thermal printer (P93W-Z)
Battery(2400mAH)
Mouse
Black suitcase
Introducer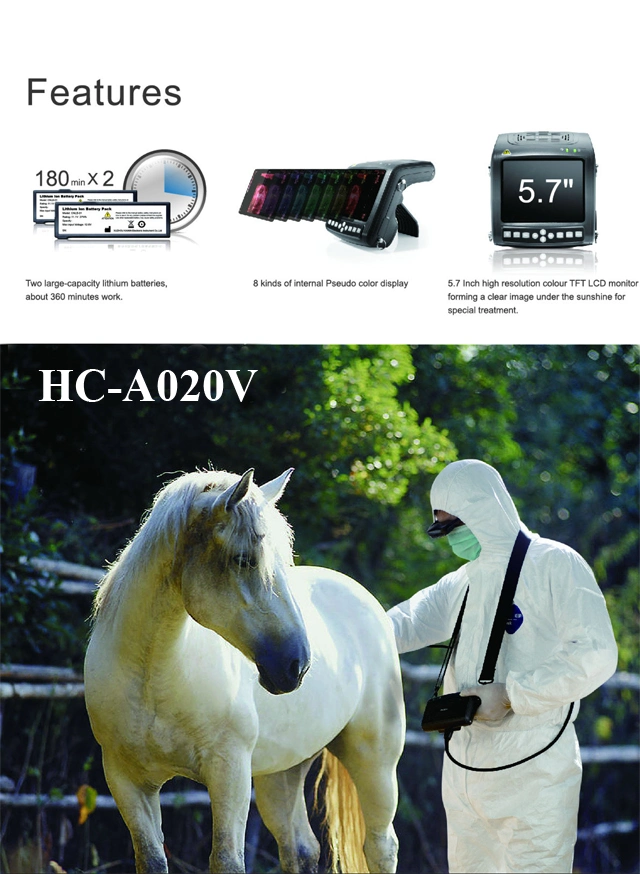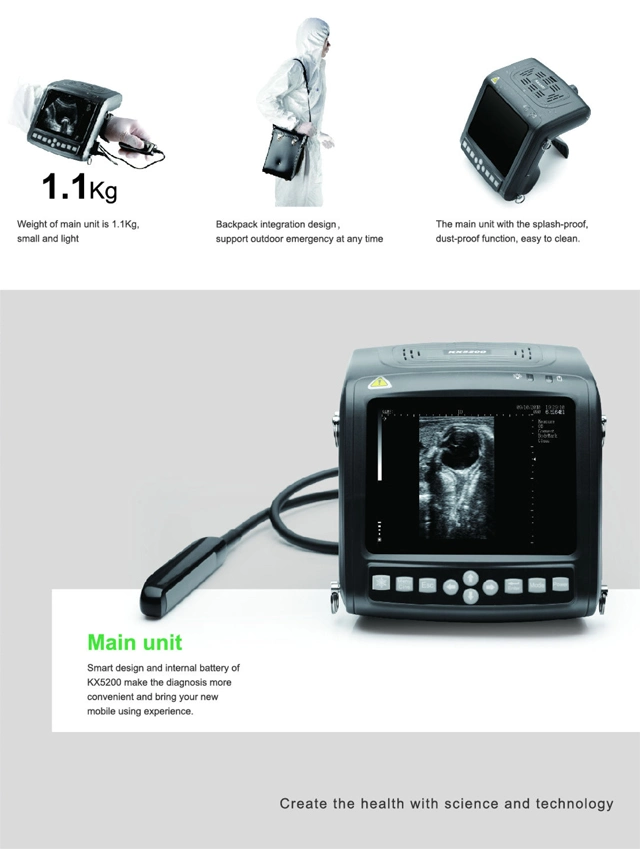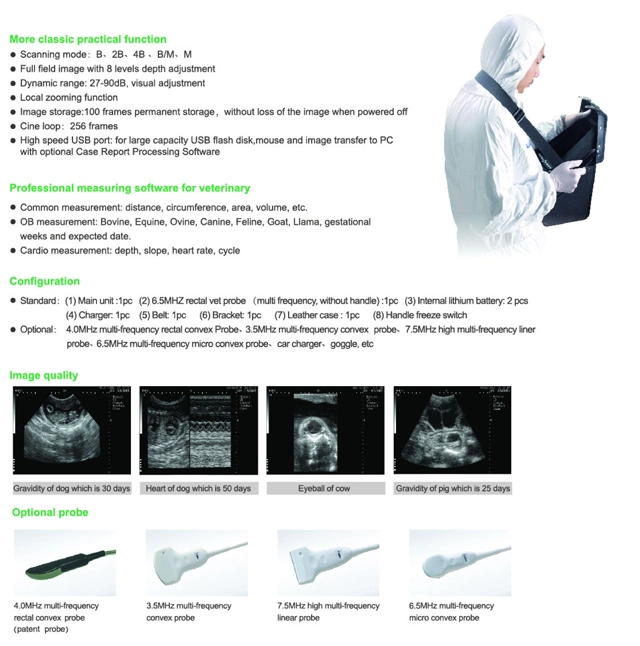 Pictures for ultrasound machine veterinary: