Ropivacaine Hydrochloride, Ropivacaine HCl, CAS 132112-35-7 China GMP Factory
| | |
| --- | --- |
| Name | Ropivacaine hydrochloride |
| CAS No. | 132112-35-7 (84057-95-4) |
| Formula | C17H29ClN2O2 |
| Standard | ≥99.5%, USP, EP |
| Appearance | White or off white crystalline powder |
| Molecular Weight | 328.88 |
| Shelf Life | 24 months proper stored |
| Storage | Keep in a cool, dry, dark. |
Ropivacaine
/Benzocaine MedicineTetracaine/Lidocaine/Procaine Application :
Benzocaine is a topical analgesic (meaning it is to be used on the body surface or in the mouth but should not be swallowed) that has a number of different uses in over-the-counter (OTC) medicines. Depending on the dose and form, the active ingredient benzocaine can be used to relieve throat and mouth pain; To alleviate external vaginal itching and burning; To stop pain and itching due to hemorrhoids; Or to relieve minor skin irritations, pain, and itching. Because benzocaine is available in different doses and forms, it is very important to read the Drug Facts label carefully to determine whether the medicine is intended to be used for the symptoms you are experiencing.
Benzocaine can be the only active ingredient in oral treatments that relieve sore throat or address mouth pain caused by cold sores, canker sores, teething, and other issues. It also can be combined with other active ingredients in oral treatments that not only relieve mouth and throat pain, but also protect irritated areas, provide a soothing coating, or relieve dryness.
Ropivacaine/Benzocaine MedicineTetracaine/Lidocaine/Procaine Pics: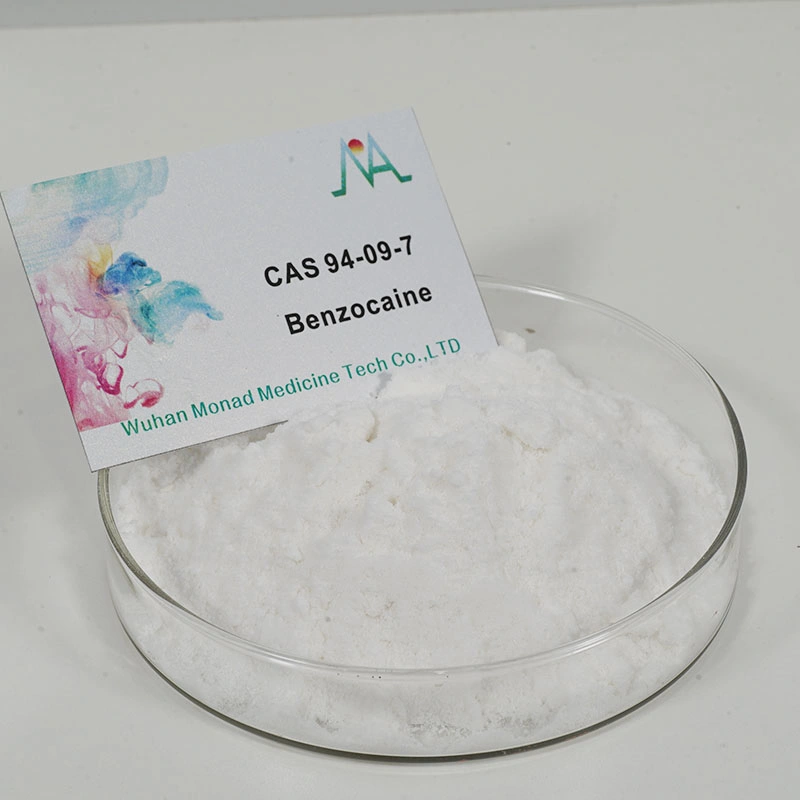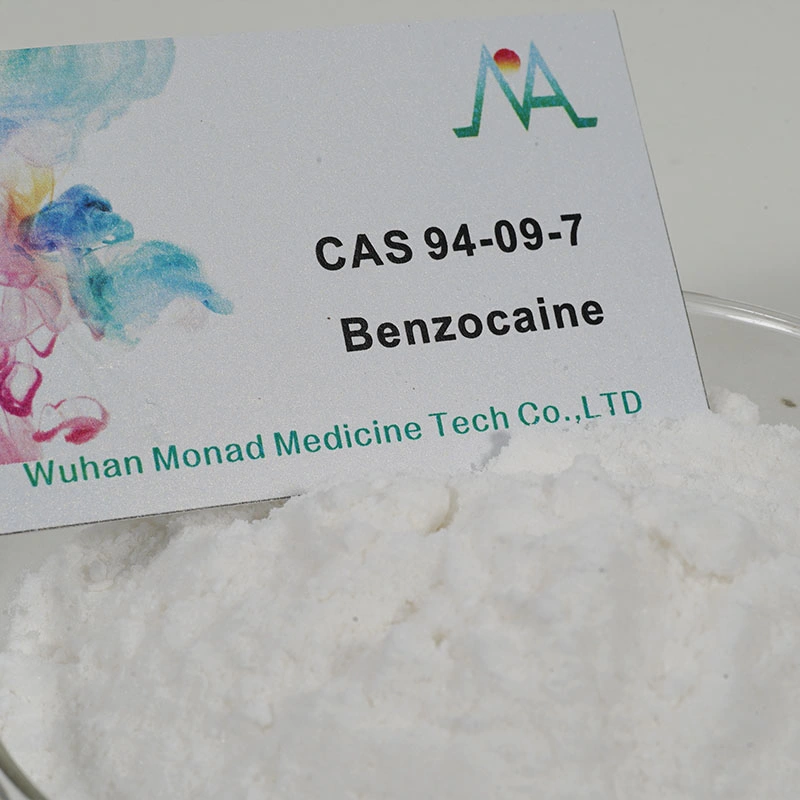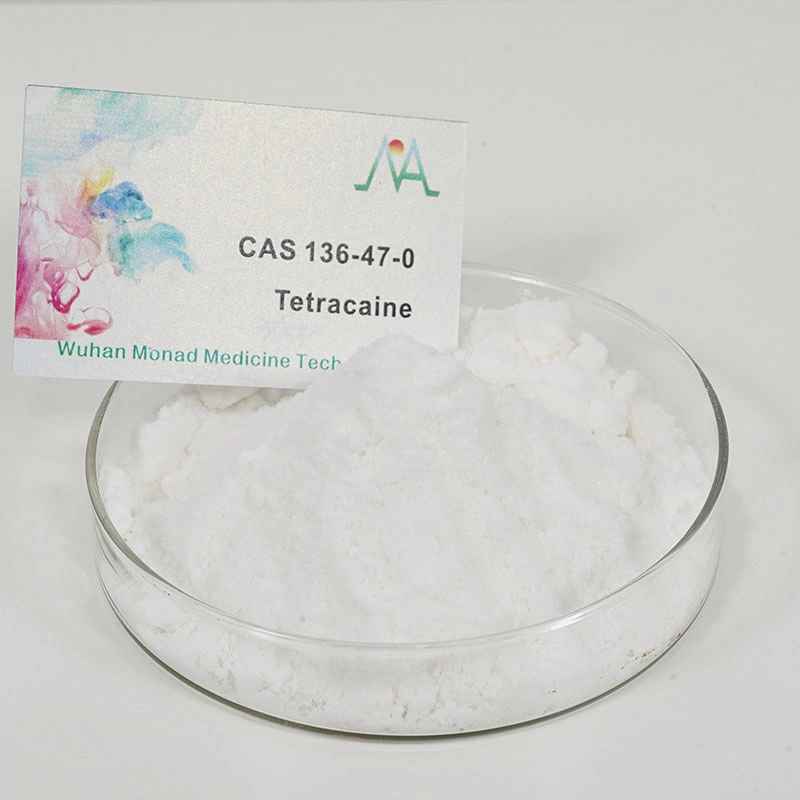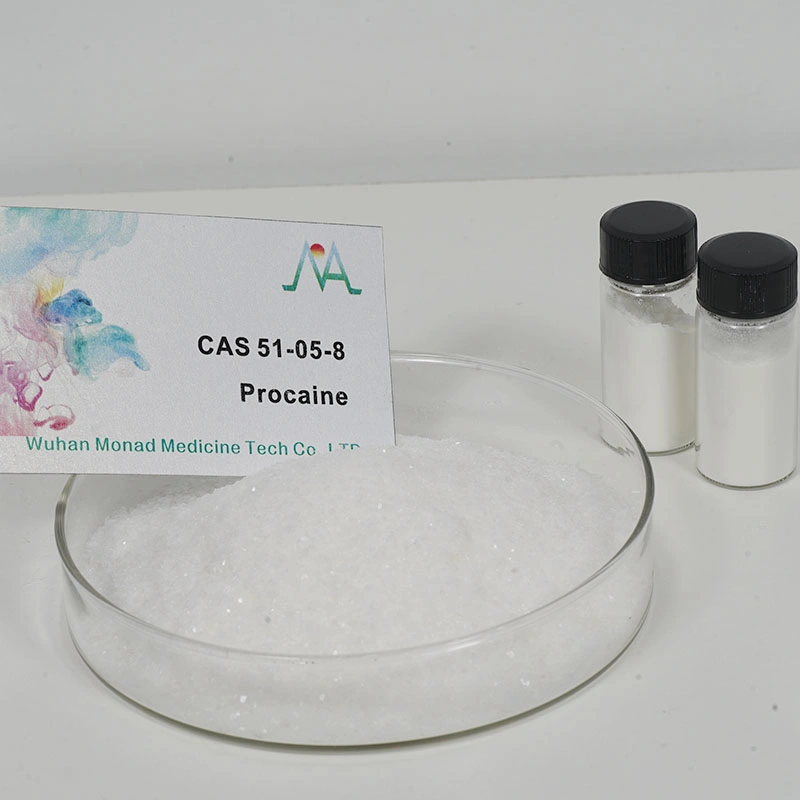 •
Our main products
110-63-4

C4H10O2

1,4-Butanediol

16648-44-5

C11H12O3

Methyl 2-phenylacetoacetate

93-02-7

C9H10O3

2,5-Dimethoxybenzaldehyde

94--09-7

C9H11NO2

Benzocaine

49851-31-2

C11H13BrO

2-Bromo-1-phenyl-1-pentanone

1451-82-7

C10H11BrO

2-Bromo-4'-methylpropiophenone

5413-05-8

C12H14O3

Ethyl 3-oxo-4-phenylbutanoate

13605-48-6

C

12

H

12

O

5

3-(1,3-Benzodioxol-5-yl)-2-methyl-2-oxiranecarboxylic acid methyl ester

125541-22-2

C16H24N2O2

1-boc-4phenylamino

593-51-1

CH6ClN

methylamine

705-60-2

C9H9NO2

p2np

5337-93-9

C10H12O

4-methylpropiophenone

100-09-4

C8H8O3

4-methoxyhenzoic

5086-74-8

C11H13ClN2S

Tetramisole hydrochloride

40064-34-4

C5H12ClNO2

4,4-Piperidinediol hydrochloride

13956-29-1

C21H30O2

Cannabidiol

110-63-4

C4H10O2

1,4-Butanediol

91-09-7

C9H11NO2

Benzocaine

137-58-6

C14H22N2O

Lidocaine

94-24-6

C15H24N2O2

Tetracaine

59-46-1

C13H20N2O2

Procaine

13956-29-1

C21H30O2

Cannabidiol

49851-31-2

C11H13BrO

2-Bromo-1-phenyl-1-pentanone

99-92-3

C8H9NO

4-Aminoacetophenone

592-34-0

C10H10O

3,4-Dihydronaphthalen-1(2H)-one

5445-51-2

C6H8O4

1,1-Cyclobutanedicarboxylic acid

707-07-3

C10H14O3

Trimethyl orthobenzoate

7517-76-2

C8H10N2O2

trans-1,4-cyclohexane diisocyanate

51828-95-6

C12H18CaO6

4-Methyl-2-oxovaleric acid calcium

93778-31-5

C6H9KO3

Potassium 4-methyl-2-oxopentanoate

4502-00-5

C6H9NaO3

Sodium 4-methyl-2-oxopentanoate

23593-75-1

C22H17ClN2

Clotrimazole

16672-87-0

C2H6ClO3P

Ethephon

9012-76-4

(C6H13NO5)n

Chitosan

103055-07-8

C17H8Cl2F8N2O3

lufenuron

16595-80-5

C11H13ClN2S

Levamisole (hydrochloride)

60-54-8

C22H24N2O8

Tetracycline

123312-89-0

C10H11N5O

pymetrozine

81646-13-1

C26H57NO4S

docosyl(trimethyl)azanium,methyl sulfate

70-18-8

C10H17N3O6S

Glutathione

38304-91-5

C9H15N5O

Minoxidil

125051-32-3

C30H22F4N2Ti

Bis(cyclopenta-1,3-diene)bis(1-(2,4-difluorophenyl)-3H-pyrrol-3-yl)titanium

84434-11-7

C18H21O3P

Ethyl (2,4,6-trimethylbenzoyl) phenylphosphinate

90-93-7

C21H28N2O

4,4'-bis(Diethylamino)benzophenone

36953-42-1

C5H3BrClN

3-Bromo-2-chloropyridine

82257-09-8

C6H6BrNO

3-Bromo-4-methoxypyridine

4316-97-6

C5H4Cl2N2

4,6-Dichloro-5-methylpyrimidine

14394-56-0

C5H6ClN3

4-Amino-6-chloro-5-methylpyrimidine

63447-38-1

C5H6N2O2

4,6-Dihydroxy-5-methylpyrimidine

1672-50-0

C4H6N4O

4,5-Diamino-6-hydroxypyrimidine

53297-70-4

C7H10N2O2S

4-Amino-3-methylbenzenesulfonamide

53606-06-7

C8H9BrO2S

4-(Methylsulfonyl)Benzyl Bromide

7509-11-7

C9H11NO4

4,5-dimethoxy-2-nitrotoluene

41864-45-3

C9H13NO2

4,5-Dimethoxy-2-methylaniline

100523-85-1

C9H10O3

4-ethyl-3-hydroxybenzoic acid

4998-07-6

C9H9NO6

4,5-Dimethoxy-2-nitrobenzoic acid

5653-40-7

C9H11NO4

2-Amino-4,5-dimethoxybenzoic acid

7553-56-2

I2

molecular iodine

79099-07-3

C10H17NO3

N-(tert-Butoxycarbonyl)-4-piperidone

17136-45-7

C10H13NO3

bzl-ser-oh

106973-37-9

C12H13NO4

(3S)-4-Benzyl-5-oxomorpholine-3-carboxylic acid

101376-26-5

C12H17NO2

(4-Benzyl-3-morpholinyl)methanol

917572-28-2

C12H16ClNO

(3S)-4-benzyl-3-(chloromethyl)morpholine

215530-62-4

C6H3ClN4O2

6-chloro-[1,2,4]triazolo[1,5-b]pyridazine-2-carboxylic acid

37538-67-3

C7H5N3O

Pyrido[3,2-d]pyrimidin-4(3H)-one

51674-77-2

C7H4ClN3

4-Chloropyrido[3,2-d]pyrimidine

71082-54-7

C10H6ClNO2

8-Chloro-3-quinolinecarboxylic acid

337958-60-8

C8H4Cl2N2

5,7-Dichloro-1,6-naphthyridine

14714-24-0

C7H4ClN3O2

6-Chloroimidazo[1,2-b]pyridazine-2-carboxylic acid